Why HydraMé?
HydraMé is formulated to penetrate the skin to rejuvenate and hydrate from the outside in.
HydraMé uses rejuvenating coconut oil as a vegetable alternative to glycerin, mineral oil and silicone oils.
Coconut oil has many health benefits and allows the nutritive oils to absorb quickly into the skin.
The result is a cool, silky feeling followed by quick absorption and soft suppleness.
Terrific for dexterous occupations!
HydraMé contains 9 nutritive oils
Coconut, Wheat Germ, Grapeseed, Sweet Almond, Golden Jojoba, Hempseed, Olive, Safflower and Rosehip Seed.
Collectively, their combined properties are ideal for skin care application!
What about variable climates and sun tanning?
People who sun tan as well as those in hot and cold climates will benefit from HydraMé!
Did you know the immediate effects of sun damage and bitter cold are endured by the outermost layer of the skin resulting in dry, dehydrated skin?
The HydraMé botanicals will deliver penetrating nourishment into skin layers.
Where can I buy HydraMé?
Ask your favorite health food store or call 239-470-8958.
How To Use: Apply a dime size portion to palm of hand.
Product will absorb into skin quickly.
Apply liberally for total body.
HydraMé is a "natural no scent added" skin nutrition.
To make a lotion unscented requires deodorizers and these items are chemicals that may irritate the skin.
HydraMé products do not contain synthetic deodorizers or parabens.
HydraMé is natural and sweet almond (a natural oil ingredient) may be detectable.
HydraMé implements global preservation system phenoxyethanol (acceptable in Japan).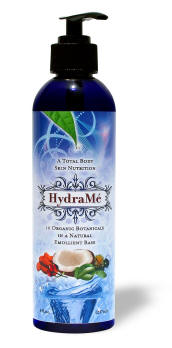 HydraMé is for everyone…
HydraMé is for YOU!
Try HydraMé!
Disclaimer: HydraMé Is Not A Medicinal Product.
If You Have A Serious Skin Disorder Or Severely Cracked Skin, Please Seek A Dermatologist / Medical Practitioner