Our goal at HydraMé was to develop a quality and affordable skin care product for both men and women. A product that is free of petro-chemical substances, free of glycerin, quick to absorb, no scent added and moisturizing. The ideal product for purchase in a natural pharmacy and health food store setting! HydraMé is an integrative product using natural ingredients and a consumer-protective preservative system. The HydraMé Skin Nutrition product was designed to be an effective solution to consumers–both men and women who share similar frustrations with lotion products.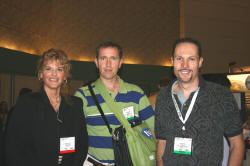 Photo taken from Expo East Baltimore
Marjorie Cole-formulator with Rick and Aaron from the Shouting Sprout, Bristol VA.
HydraMé Skin Nutrition is designed for YOU! Ask your local pharmacy and/or health food store to carry it!
Preservative System-Globally Accepted Phenoxyethanol
For The Love And Goodness Of Others- HydraMé Is For YOU!
Disclaimer: HydraMé Is Not A Medicinal Product. If You Have A Serious Skin Disorder Or Severely Cracked Skin, Please Seek A Dermatologist / Medical Practitioner