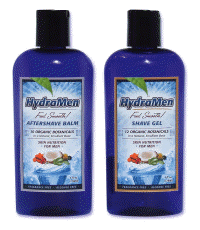 HydraMen
Shave Gel & After Shave Balm
Testimonial from Ron in Georgia on HydraMen Shaving Products
"I had the opportunity to try the men's shaving products and they are fantastic!  I've used all the natural shave products from Nature's Gate, Kiss My Face, Earth Science and Aubrey Organics and none of them were as effective as the HydraMen products.  The shave gel is easy to use, does not clog the razor, has a nice lubricating effect so the razor moves smoothly on the skin and I did not cut myself because I did not have to press the razor hard on the skin to shave the whiskers. The Aftershave balm soothed the skin and I did not have any itching or burning afterwards, especially on my neck."
Shave Gel
A No Waste Practical Shaving Application!
Clear, plant foaming shave gel allows you to "see" where you are shaving. Eliminates razor pinches and razor nicks. Facial contours around chin and nose area are accurately groomed. HydraMen Shave Gel, comprised of 12 botanical ingredients impart a smooth shave for long lasting Feel Smooth Skin.
How To Use: As a Facial Wash and Shave Gel. Apply portion size as needed to palm and rub onto facial surface. Proceed with razor shave. Rinse off thoroughly. Apply HydraMen After Shave Balm for complete Feel Smooth Skin.
Note: Not recommended for use with electric shaving devices.
*Special note- Typical shaving applications are intended to allow the razor to glide over skin, however their ingredients are not designed to hydrate, nourish and moisturize. If you're looking for a shave gel that will hydrate and nourish your skin…try HydraMen!
An Organic Blend of Hydrating Coconut Oil,
Aloe Vera , Arnica ( anti-inflammatory, pain relieving, excellent for minor razor cuts and abrasions, promotes renew and post shave skin recovery) Hempseed, Safflower, Golden Jojoba, Sweet Almond, Olive, Wheat Germ, Rosehip Seed, Grapeseed and Witch Hazel (anti-oxidant and astringent) The Combined 12 Botanicals Impart a Smooth Shave For Long Lasting
Feel Smooth Skin.
After Shave Balm
Powerful skin nutrition and anti-aging formula with enhanced fibroblast function
HydraMen is a unique fragrance free, paraben free, hydrating and moisturizing aftershave balm formulated with organic botanicals. The botanicals work in formula to hydrate the skin, keep pores tight and promote post-shave recovery.

How To Use: Apply a dime-size portion to palm of hand and smooth into facial surface. Product will absorb quickly with no residual slippery feel. To be used in-system with HydraMen Shave Gel.
An Organic Blend of Coconut, Aloe Vera, Sweet Almond, Golden Jojoba, Wheat Germ, Grapeseed,
Hempseed, Olive, Safflower and Rosehip seed yield a powerful nutritional and anti-aging formula rich in Anti-oxidants, Essential Fatty Acids & Amino Acids, Omegas 3, 6 & 9, Vitamins A,B,C, D & E, and Minerals- Folic Acid, Niacin, Calcium, Sodium, Iron, Potassium, Chromium, Magnesium, Manganese, Copper and Zinc.